In the Episcopal Church, the Vestry is the group of lay leaders elected by their fellow members to serve with the Rector as the leadership and governing body of the Parish. Holy Trinity has 12 Vestry members at any one time. Each fall, a nominating committee of the Senior Warden and four outgoing Vestry members nominates eight candidates. Four of those candidates are elected to a three-year term at the fall Parish Meeting. Each January, when new members take office, the Vestry elects a Senior Warden, Junior Warden, Secretary, and member-at-large to the Vestry Executive Committee.
Click here to see the slate of Vestry nominees for the Dec. 3, 2023, annual parish meeting.
If you have questions, suggestions, or concerns, please do not hesitate to contact a Vestry member.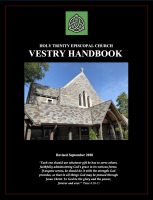 Holy Trinity Vestry
Class of 2023

Tom Duncan

Brett Hacker, Junior Warden

Harriette Knox, Senior Warden

Class of 2024

Katherine Skinner Cuda

Dodson Schenck

Daphne Shaw

Joe Weatherly

Class of 2025

Will Creekmuir

Tom Stukes

Freya Thomas

Connie Wojtek

Will DuBose, Treasurer