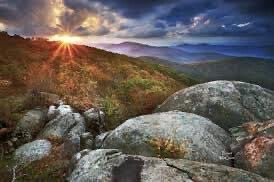 Appalachian Trail Pilgrimage to Three Ridges Wilderness
A backpacking pilgrimage to Three Ridges Wilderness, a 15-mile loop in Virginia, where wildflowers and trail magic await.
Trip Dates: May 13-15, 2022
Cost: $175
Join us for a backpacking pilgrimage along a section of the longest hiking footpath in the world. Our planned route is a quad-busting 15-mile loop in Virginia, where wildflowers and trail magic await.
This pilgrimage will be led by the Rev. David Umphlett. There will be 14 spaces available and divided between first-time pilgrims and prior pilgrims based on interest.
Pilgrims will need to be mentally and physically prepared for strenuous climbs and groaning bones over difficult terrain all while carrying a fully loaded pack. Contact Corinne Jones ( ) or Caroline Tisdale ( ) with any questions.
Registration Details
Registration for the Spring Appalachian Trail Pilgrimage will open Sunday, January 30.
To register, email Corinne Jones ( ) on or after Sunday, January 30 to declare your interest in participating in the Spring AT Pilgrimage. In your email please indicate whether you are a first-time participant in a Holy Trinity pilgrimage or whether you have participated in prior pilgrimages.
After Corinne receives your email, and provided there is an open spot, she will email you a link to the registration form and provide payment instructions.
To confirm your spot, you will need to:
Submit your registration form within one week of receipt; and
Submit your $175 payment (nonrefundable) on or before February 28.
For more information and to register: email Corinne Jones ( ).
The AT Pilgrimages are in their third year. Leaders for each trip provide plenty of guidance and practice to participants through local training hikes and Thursday night walks in preparation for their journey.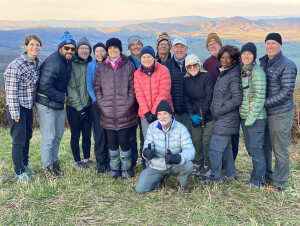 Photos are from Fall 2021's AT Pilgrimage.