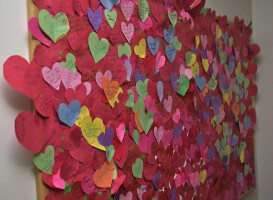 Holy Trinity Day School offers a wide variety of ongoing and seasonal activities designed to enrich the social, spiritual and academic development of our students.
Weekly Chapel: The Rev. Sarah Carver, Assistant to the Rector and School Chaplain, and Marjorie Donnelly, Director of Christian Formation, lead the children in weekly chapel service. Once a week the children in the Threes, Pre-K, and Junior Kindergarten classes gather as a community to worship, pray, and sing together in our Children's Chapel.
Godly Play: Godly Play provides an environment that fosters discovery learning and engagement with scripture. Children hear, experience, and explore sacred stories from the Hebrew Scriptures through the New Testament. Godly Play is structured to nourish and guide each child's spiritual quest.
Music and Movement: Because music naturally involves the whole child, Holy Trinity Day School incorporates a rich and vibrant music program into the daily routine of its classes. Students sing songs, move, and play instruments throughout the year. In addition, students enjoy regular classroom visits from our music instructor, Riley Walker.
Science Time: Preschoolers' love of investigation and abundant curiosity about the world around them make them natural scientists. Our science teacher, Erin Votaw, who is passionate about active learning, works with 2s through junior kindergarten classes for hands on science time. She has a B.A. in Zoology and Chemistry and a M.A in Toxicology and Public Health. She works in the Education Department at the Greensboro Natural Science Center and has 13 years of experience bringing science to life for preschoolers.
In-house Field Trips by visiting agencies and programs.
Field Trips
Morning and Afternoon Carpool
Parades and Picnics
Fun Days
Thanksgiving Program
Special Chapels