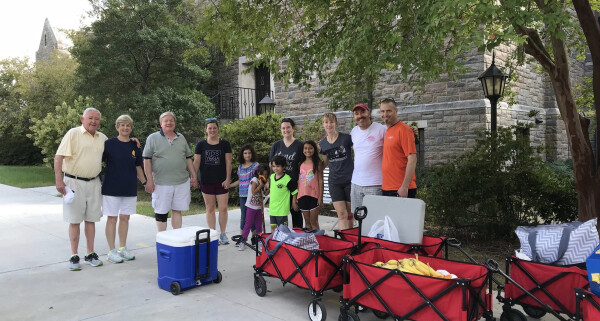 There are many opportunities to serve God and God's people through Holy Trinity, and there is a place and a need for the unique gifts of every member. The organizations listed below are supported by Holy Trinity financially and with volunteers. For more information about these and other service opportunities, contact Mark Lile-King, Minister of Welcome, Engagement and Pastoral Care, at 336-272-6149 or mark .
Current Projects and Community Organizations
Learn more about our ongoing projects, both inside and outside of the parish in our GIFTS (Growing In Faith Through Service) Brochure.
Food collection for the month of January is for Triad Health Project. Collection boxes are located in the narthex, receptionist lobby, and the elevator lobby. Healthy food items may be brought in bags to the church, but please do not bring empty bags, as they use up valuable space in the collection boxes. Food should be unopened, not expired, and not in glass containers.
Hot Dish and Hope — One Tuesday a month, our parish volunteers to help provide a meal for our neighbors through a program called Hot Dish & Hope. We are currently currently looking for a person or a team to coordinate Holy Trinity's participation. If you are able to help, or would like more information please contact Rev. Nathan Finnin at .
Prayers in the Park Ministry: Bag lunch preparers are needed Sundays. If you are looking for an opportunity to help neighbors in need in downtown Greensboro, your participation is welcomed and most appreciated. To sign up and get additional information please click here for 2020 dates.
You may also purchase cold weather items at our Walmart Gift Registry, click here. (This link is also searchable under the gift registry section using the event name "Prayers in the Park"): Any items you purchase will be shipped directly to the church and given to our neighbors in need. Lunch supplies can be purchased and shipped directly to church at our Amazon Gift Registry, click here.
If you have questions or to find out more about more about Prayers in the Park, please contact Ken Keeton. Follow us on Facebook: "Prayers in the Park."
Wonderful Outreach Ministry Opportunity Available — On Tuesday mornings local Episcopal churches prepare and serve a hot breakfast for approximately 125 - 150 people as well as prepare 60 bag lunches. Volunteers are needed to help serve and clean up from 6:30 - 7:45 a.m. Come any Tuesday morning to meet and have fellowship with an amazing core group who prepare the meals and with the men and women who appreciate the breakfast and bag lunches. Greensboro Urban Ministry is located at 305 W Gate City Blvd, and the parking lot is accessible from Elm-Eugene through the wrought iron gates. If you have questions, please contact Carla Ashley at 336-324-3854 or
The Servant Farm, located at 8128 E. Harrell Road in Oak Ridge, produces fresh produce, which feeds thousands of people during harvest season. The produce is distributed to non-profit organizations such as The Servant Center and the Second Harvest Food Bank, and many others. Volunteers of all skill levels are welcome to help plant, maintain, harvest and/or distribute the produce. Contact: The Rev. Sarah Carver, 336-272-6149 or Muriel Inabnet,
Thinking about volunteering for Meals on Wheels? On the third Monday of each month, Holy Trinity sends out 20 teams to deliver hot meals to 300 customers. The team has an urgent need for additional volunteers, both regular and substitutes. If you have been thinking about volunteering but not sure you are ready to commit, why not ride along with one of our volunteers to see what it is all about? You will see the appreciative customers first-hand and get a better understanding of how important this service is to our older adults. Think about it and give Richard Cox a call at 336-274-8644. He is waiting to hear from you!
Habitat for Humanity Volunteer Opportunities
There are some wonderful volunteer opportunities with our local Habitat for Humanity organization. If you would like to be involved in meaningful work in our community, please contact the Rev'd Nathan Finnin at .
Reading connections
Over 80,000 adults in Guilford County suffer from low literacy that prevents them from getting a job, a GED, becoming a US citizen or otherwise achieving their dreams and objectives. READING CONNECTIONS is working on meeting a goal of "50 tutors in 50 days." To learn how you can help, call 336-230-2223, email or check out their website, readingconnections.org