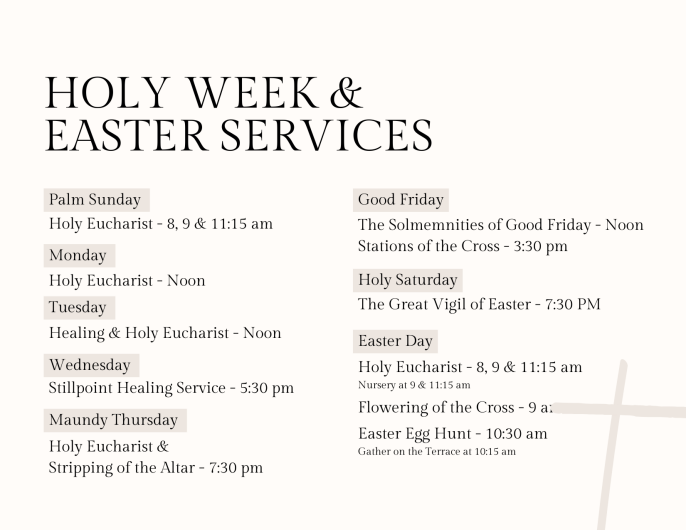 Everyone is invited to worship with us at Holy Trinity, and all baptized Christians, regardless of denomination, are welcome to receive Eucharist. Those not baptized or who choose not to receive communion may come to the altar rail to receive a blessing.
In Person Holy Eucharist Service, Sundays at 8, 9 & 11:15 a.m.
Children's Chapel

Offered Sundays during the 9 a.m. service for children Four Years–3rd grade. Parents may drop children off from 8:45–9 a.m. on the second floor of the Parish House in Room 211. Children hear a story, sing songs, and pray. The children take turns serving as acolytes, crucifer, and ushers. We collect an offering, which is added to the offering collected in church. Children attending Children's Chapel join their parents in the Church at the Peace for Eucharist.
Infant & Toddler Nursery
A warm and welcoming environment demonstrates God's love to our youngest children. The nursery for Birth – Three is located on the first floor of the Parish House in Room 105. Childcare is provided Sundays from 8:45–11:15 a.m. during the 9:00 a.m. service and the Sunday school hour. There are paid childcare providers, supplemented as needed by volunteers. No pre-registration is required.

Music from Ben Brafford
Listen to Ben Brafford's beautiful music at home. Click here for the Music of Holy Trinity Facebook page. Click here to listen to Ben's playlist on SoundCloud.


---
Weekday Worship Events
Monday Healing & Compline Online Service - 7:00 PM
Zoom Link
Meeting ID: 814 1705 8476
Wednesday Stillpoint Service - Chapel - 5:30 PM